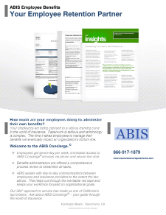 Service can be a dirty word in the insurance industry.  Some brokers completely lose focus after earning your business.  Carriers are cutting staff and lowering expectations for how they handle the day-to-day needs of your employees, and it takes a brokerage that truly believes in proactive measures to counteract that trend.
How much are your employees doing to administer their own benefits?
Your employees are being exposed to a vicious learning curve in the world of insurance.  Paperwork is tedious and terminology is complex.  The time it takes employees to manage their benefits will eventually impact an organization's bottom line.
Welcome to the ABIS Concierge. ©
→ Employees get seven-day per week, immediate access to ABIS Concierge© services via phone and secure live chat.
→ Benefits administrators are offered a comprehensive process review to streamline all tasks. 
→ ABIS assists with day-to-day communications between employees and insurance providers to the extent the law allows.  This helps cut through the inevitable red tape and keeps your workforce focused on organizational goals.  
→ Our 360° approach to service has made us one of California's top brokers.  Ask about ABIS Concierge© — your guide through the world of insurance.